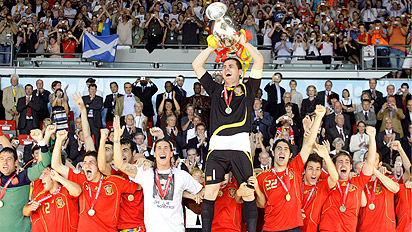 The picture says it all,
San
Iker
el
Capitan
holding the
Eurocup
aloft after a brilliant victory in the final vs. Germany 1-0. And to his right, our left, Sergio Ramos wearing a t-shirt remembering,
commemorating
his fallen Sevillano Antonio Puerta. I can scarcely believe that I wasn't really a
futbol
fan until watching the World Cup 2 years ago this summer. I thought it was a great team effort, with
El Nino
provided the difference, but with Iniesta and Senna controlling the pace in the midfield and Puyol the stopper in the back. Other than Ballack's one feeble attempt, Germany was never really in the attack, understanding that every time the service went in the air, I was mortified of one of those Teutonic giants, especially Mertesacker, swooping in for the equalizer. I thought about ordering a nat'l jersey online, but instead I'm going to wait for my next trip to la peninsula. I'm already excited about World Cup 2010, and why not? The balance of this team is quite young, as long as Puyol can hang on until then. I think La Furia can be a force, with Torres, Fabregas, Casillas and Ramos even better by then. Exciting stuff!!
Vamos!!!!